Feb. 9-10, 2002 Travel to Salt Lake
(all images can be clicked to enlarge)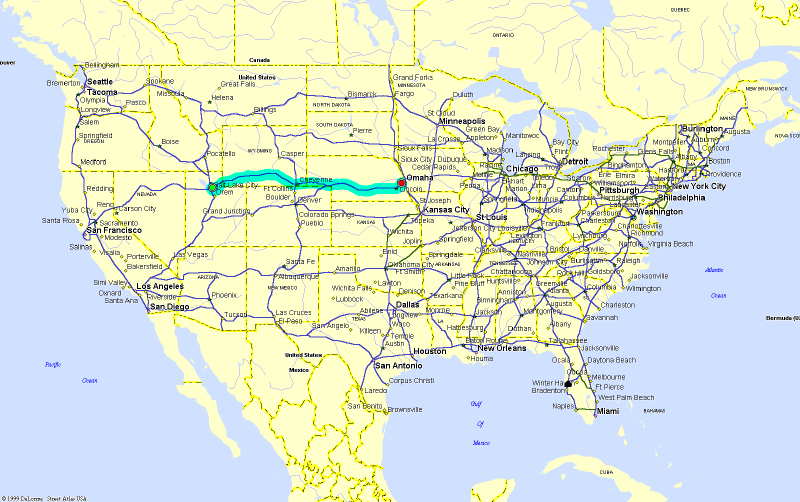 Our route to Salt Lake City for the 2002 Olympics
We left home at about 1:30 in the afternoon on Sunday for the drive to Salt Lake City.
We tried to leave as early as possible because there was a winter storm that was working it's way across Nebraska. As we drove along I-80 it was very windy and the weather deteriorated. Between Omaha and Lincoln we hit rain that gradually changed to snow as we worked our way west.
As we got closer to the I-80 (toward Cheyenne, WY) / I-76 (toward Denver, CO) split we encountered signs saying that I-80 was closed between Sydney, NE and Cheyenne, WY due to wind and blowing snow. This would mean that we would have take the southern route through Denver which would add 3+ hours to our 14+ (driving time) hour trip to Salt Lake.
Just before the split, at Ogallala, NE we stopped at a truck stop for dinner and gas (for the car, not from dinner ...). We inquired at the fuel desk and were told that, yes, I-80 was closed. Best guess was that it would be open the next morning. Since, if true, we would need the extra driving time, we decided to keep driving and see what materialized.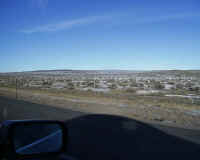 Wide open Wyoming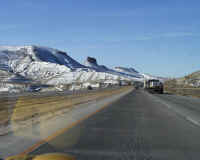 Wyoming 2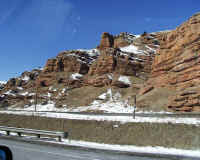 Eastern Utah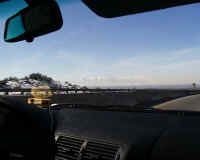 Salt Lake City is located just this side of the range in the distance
As we approached the split we encountered two electronic signs that were off and turned away from the highway - a good sign. Sure enough, when we got to the split I-80 was indeed now open to Cheyenne!
We had to take it slow because it was windy and there were a lot of ice patches that would appear suddenly along the way.
We kept driving until about 11 PM when we reached Rawlins, WY (mid-way across WY). It took awhile to find a motel with a room. We learned that this was because I-80 had been closed for about 24 hours and the rooms had filled with people waiting to travel eastward. I-80 had apparently reopened just before we reached the east end of the previously closed section.
One strange thing happened. While I was checking in to the Days Inn she asked if we had been there before. I said no and she said that she had another Chuck Hackett that had stayed with them and his address was in Elkhorn, Nebraska. Turns out that Joan and I had stayed there last fall while returning from our trip to the Northwest.
The rest of the drive on Sunday was uneventful and we arrived at our destination at about 1:15 PM Mountain time.