How NOT to Move From Omaha To Denver
(all photos can be clicked to see a larger version)
As some of you know, the week of July 7th, I was helping my son James along with his wife Cass and daughter Ariana (see Ariana's Page) move from their apartment in Omaha to a new apartment in Denver. James will be attending the Art Institute of Colorado (AIC) in Denver for about two years.
On July 4th I arrived back in Omaha after driving 37 hours returning from a trip to Washington & Oregon. James had to be in Denver on the 10th for orientation at AIC so we started packing up the apartment on Monday.
All started fairly normally on Monday. I went to U-Haul to rent a 17 foot truck. I had to wait about 15 minutes for them to finish an oil change. I thought that this was a good sign showing that they were taking care of their fleet ... read on ...
It took all of Monday and Tuesday to pack up the apartment. It was late on Tuesday when we got done but since we wanted to get to the Denver apartment before the office closed at 6 PM on Wednesday we decided to start driving Tuesday night (about 8:30 PM) and see how far we could get. I was driving the truck with James' Mercury Cougar in tow on an auto tow dolly and James was driving my Tahoe with Cass' Toyota Paseo in tow on another dolly.
| | |
| --- | --- |
| | |
| How much stuff can two people stuff into a two bedroom apartment ... | Finally Finished! |
| | |
| The old apartment building | Loaded and ready to go |
As I was driving I noticed that what I had thought was an odometer reading of 18,000 miles was actually 180,000 miles. Hmmm, this truck is older than I thought but it's a diesel and they run forever, right? ...
At 3 AM we decided to stop for the night in Kearney and finish the drive on Wednesday.
We left Kearney at about 10:45 AM on Wednesday the 9th to make Denver before the apartment office closed at 6.
I was only able to maintain about 65 MPH in the truck and it looked like we wouldn't make Denver in time so when we stopped for food we decided that James and Cass would drive ahead in the Tahoe to get the apartment opened up and I would follow along at a slower pace. So, at about 12:00, I gave James my cell phone and we proceeded separately to Denver.
At about 2:15 I noticed that there was a woman in a passing car who was looking strangely at me. A short time later the truck gradually slowed down and I was only able to maintain 55 mph. Then I noticed it .... smoke coming from under the left side of the truck, looks like I'll be late arriving in Denver ...
15 miles east of Ogallala, NE I pulled to the side of I-80 to see where the smoke was coming from. As I stopped the quantity of smoke made it obvious that this was not a small problem. I got out and looked under the truck to see a stream of burning liquid a little smaller than my pinky coming from somewhere between the engine and transmission running down over the exhaust pipe and covering the ground with a burning pool - I thought: I am definitely going to be late in Denver ....
My next thought was "Is this fuel, oil or what?". I couldn't find a fire extinguisher in the truck so I quickly emptied my laptop and other stuff from the cab - I knew that if the fire engulfed the truck there was no way I could save everything it contained. I looked to see if there was anyone passing who might have a fire extinguisher. After what seemed an eternity but what was probably only 30 seconds I saw a highway maintenance truck passing eastbound. While he was stopping two semis also stopped, one in front of me and one behind. The highway worker got there first with a fire extinguisher. By this time the burning fluid (which we later determined was transmission fluid) had stopped streaming out and the fire was dying down.
| | |
| --- | --- |
| | |
| Fire is out ... | Pool of transmission fluid that was burning |
| | |
| Cougar covered with transmission fluid. Notice how everything, including the windshield, has a satin look to it. | A real mess. I wonder what it's doing to the paint? |
We wanted to check to see if there was any fire in the engine compartment so we released the hood (no small chore as the handle was broken and we had to quickly get a pair of pliers to pull on the exposed release rod). We raised the hood and I looked in to see if there was any fire evident on/near the engine ... at this point I felt an intense pain in my head and everything went dark for a moment ... the engine compartment hood had fallen and hit me square on the top of my head about an inch back from the hair line on my forehead. I instinctively reached up and my hand came back down all bloody. One of the semi drivers came back shortly thereafter with some ice wrapped in a T-shirt for me to apply to my, now pounding, head. About this time I noticed that I had also chipped a tooth in the altercation with the engine hood.
By this time we had the Paxton (I-80 milepost 145) Rescue Squad and Fire Department on scene (I-80 milepost 141) as well as a state patrolman, the two semi drivers and the highway maintenance worker.
One of the paramedics checked out the 1 1/4" laceration in my head. She said that it looked like it was closing up but it could probably use a stitch. I wasn't concerned with leaving a scar on the top of my head so I decided to refuse transport to the hospital and stay with the truck. She applied a pressure bandage and wrapped my head with gauze to hold it in place. All I needed was a crutch and I would have looked very much like one of those classic pictures of a wounded Civil War soldier.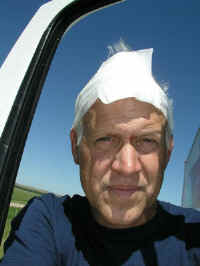 Wounded!
About this time it occurred to me that I should call James and let him know what had happened. I borrowed a cell phone from the highway worker and called my cell phone but they must have been out of coverage as there was no answer. I left a message that I was having trouble with the truck and would be late but I was Ok. I had no idea if James knew how to pickup my messages when they got back into coverage and the cell phone started beeping.
I then used the highway worker's cell phone to call the U-Haul hotline to find out what we do next. They answered quickly but then they started asking what seemed like hundreds of questions, some of which seemed ridiculous. After what seemed like an eternity he finally switched my over to someone who would actually send a tow truck. They wanted to tow me back east 36 miles to North Platte (milepost 177). I said I was only 15 miles from Ogallala and didn't that make more sense? She said, oh, ok ... you'd think they would have known which town would have been better to go to (distance, facilities, etc.).
Since everything was now under control I thanked the other players in my little drama, said goodbye, and sat down to read a magazine and wait for the tow truck - with my head still pounding ...
The truck was towed to R & R Full Service & U-Haul in Ogallala. Roger and Dan checked out the situation. At this point there were two options, try and fix the truck (probably not a pleasant thought for Roger) or transfer the contents of the truck to another truck (not a pleasant thought to me). We unloaded the Cougar and unhooked the tow dolly from the truck.
While they were dealing with the truck I decided to take the Cougar, which was covered with transmission fluid, next door to the carwash and get the transmission fluid off of it before the paint was damaged. This mist of transmission fluid must have been what got me the funny look from the woman who was in the passing car mentioned earlier.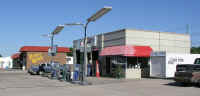 R & R Full Service & U-Haul in Ogallala. The "Power Wash" next door is where I washed the transmission fluid off the Cougar.
Roger and Dan decided to add transmission fluid and see if they could move the truck. After bringing the fluid level back up they started the truck and it seemed to move fine with nothing leaking. They decided to take it for a test drive. After driving down highway 30 several miles and back all still seemed ok so they decided that the transmission must have overheated boiling the fluid out an overflow and it would be ok to continue.
So we reconnected the tow dolly, loaded up the Cougar and at about 6:30 PM I was on my way again, or so I thought ...
I decided to keep the speed down to 55 mph just to be sure the transmission didn't overheat again but at milepost 115 I again saw smoke coming from under the truck. Once again I pulled over and checked things out. Sure enough the stream of fluid was again leaking from the transmission onto the exhaust pipe but, thankfully, there was smoke but no fire this time. It was about 7:00 PM on Wednesday. I had traveled a total of 26 miles - I was definitely not going to make Denver today ...
I still had no cell phone to summon help so, since transmission fluid had stopped leaking and there was no fire, I decided to unload the Cougar (thank God I had asked James for the keys before they went on ahead) and backtrack to Brule (milepost 117) to try and phone R & R to see if Roger and Dan were still there. After some searching by the attendant at the small gas station at the Brule exit we located the number for R & R and I called but ... no answer ...
So at about 7:07 I again called the U-Haul hotline. Thankfully I didn't have to again endure a lengthy inquisition. They told me to stay by the pay phone and someone would call back within 30 minutes. Sure enough, within about 10 minutes the phone rang. It was Roger. He said "I guess you didn't make it very far ...".
I drove back to the truck and Roger showed up about 15 minutes later. He tried putting more transmission fluid in to see if he could at least drive the truck back to the shop. No such luck, the fluid was getting pumped out as fast as he poured it in. It appeared that the front pump seal in the transmission was now totally gone.
At about 8:00 Roger called for a tow truck, I got out my magazine again and we waited for the tow truck. The sun went down, the moon came up and we waited, and waited ....
Finally, at 9:30 the tow truck arrived, loaded up the truck and headed back to the R & R shop as I followed in the Cougar.
Back at R & R in Ogallala I was talking to the tow truck driver. After relating some of the earlier events he said "So you're the guy who was on fire earlier today?". It seems that he is from Paxton and was friends with people from Paxton fire and rescue :-)
At about 10:30 we decided that the next morning Roger would contact Ford (it was a Ford truck) to see if the transmission could be repaired in a reasonable time or we would have to load everything in another truck. I washed James' car for the second time in one day and went and got a room in a motel for the night. While at the motel desk registering for a room I mentioned my rough day and the guy standing next to me says "Your the guy who was on fire?" - seems he had passed by during my first party at the side of the road! I called James - see you tomorrow, I hope!
Before turning in I decided to go through the drive through at McDonalds for some dinner. In keeping with my day, at the pickup window I discovered that I had left my wallet back at the motel room! After a fast trip back to the room and returning to McDonalds I finally had my dinner and went to bed before something else could go wrong!
The next morning (Thursday) I returned to R & R at about 8:15 AM to see if Ford could fix the truck or I was going to have to transfer to a new truck. Roger said Ford couldn't fix it anytime soon. U-Haul has a couple of options in this situation including a) they pay you $150 to shift the load yourself or, b) they will do it for you but they are not responsible for damage. At 8:45 we backed up an empty 24 foot truck to my full 17 foot truck and I started transferring everything from one truck to the other. After an hour and 45 minutes I was hot, sweaty and done ...
| | | |
| --- | --- | --- |
| | | |
| New truck (foreground) back-to-back with the old one. | Ready to move everything from the old truck to the new one. | Finished, an hour and 45 minutes later ... |
After doing paperwork and loading up the Cougar I left Roger and Dan at 11:30 and went to a nearby Travel America Truck Stop to have lunch and cool off. At 12:30 I started out for my uneventful last leg to Denver ... wrong ...
At about 2:00, after driving about 50 miles I was nearing Sterling, Co when I heard a beep, beep, beep , .... At first I thought it was my laptop which I was using with a GPS map program. After confirming it wasn't coming from my laptop I discovered that it was the truck. There was also a light illuminated indicating "Electric Brake Motor" - now what! I pulled into a rest area at Sterling. While pulling off the interstate the beeping stopped and the light went out. At the rest area I looked for a manual to see what the light meant. I found no manual but I did find the maintenance record book which contained several recent entries showing work on the brake system - great!
I called my friend Roger back in Ogallala. He wasn't sure what the light meant but told me I wasn't far from the U-Haul location in Sterling. I went to the Sterling U-Haul location and described the problem to them. They said that the light indicated that there was a problem with the electric pump that supplies hydraulic pressure to the steering and brakes if the engine were to die. He said that as long as the light was now out and I was 'only' going to Denver (another 140 miles) I should be ok. Needless to say, this did not fill me with a lot of confidence! Without much of an option I headed out for Denver crossing my fingers ...
The rest of the drive to Denver was uneventful - although a little stressed because I was hyper-aware of any unusual sound or smell - until I got to Denver ...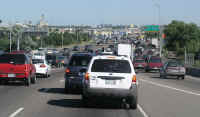 Bumper-to-bumper traffic in Denver
As I got caught up in 5:00 rush hour traffic I noticed a squeal/scraping sound that I hadn't heard before. Since I was in the middle of bumper-to-bumper traffic with a 24 foot truck with a car in tow and everything seemed to be working ok I kept going to the apartment. When I got to the apartment the sound continued constantly but I made it and was relieved that the "Trip From Hell" was finally over ...
We spent the next two days unloading the truck and carting all James' and Cass' worldly possessions up to their third floor apartment.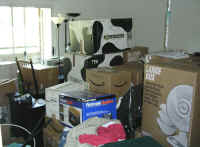 All unloaded on the THIRD floor. I left it to James and Cass to unpack ...
I then dropped the truck at a U-Haul location (with a very rude proprietor - but that's another story) and vowed to never again rent anything from U-Haul that has a motor in it!
| | |
| --- | --- |
| | |
| Next time you see this sign, remember ... | You may not want this type of adventure!!!! |
The End ...
More 'normal' sights and activities:
| | |
| --- | --- |
| | |
| The new apartment | If you look real closely you can see the mountains from the apartment |
| | |
| Ariana enjoying her first use of a spoon enjoying some cereal. | On Sunday we took a drive up into the mountains before Grandpa Chuck started the trip back to Omaha. |