Leslie decided to give me a fathers day present i will never forget. She called me at work and told me we were preagnant! After i came home from work, she showed me the "stick". Yep, just like in the movies there were the 2 pink lines.
The first trimester, Leslie was VERY tired most of the time. She had very little Morning Sickness, and has done very well through all of this fun.
As the baby developed, she became more and more unable to sleep on her stomach. Leslie has repeatedly stated that she is looking forward to sleeping on her stomach again.
In October, our son started moving enough that it could be felt with gentle pressure on Leslie's stomach. True to form, every time i tried to feel him, he would stop moving. Later on he has made movements that could actually been seen when looking at her stomach. It is a little bit wierd to see a hand pass by when he stretches! I keep comparing it to somthing out of the Alien movies. He has kept us quite entertained!
Now in the 9th month, Leslie and I are ready to invite him into the world.
With that said, our induction is scheduled for Feb. 20th at 0600.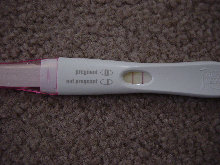 Watch Leslie grow!
See the 3-D Ultrasounds!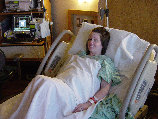 The Big Day!

Nevan's Page