Our New House!
Leslie and I finally got tired of paying rent, and decided to get a "Money Pit" of our own! Hehe!
With the housing market as it is, it was a much better long term investment to have our house built new as opposed to getting a 40 year old house and spend our time fixing it up.
We went with Hearthstone Homes here in Omaha, and after a thorough reading of "Mortages for Dummies" we signed on the dotted line and broke ground in October.
We purchased a true 2-story house with a big deck and a walk-out basement. The basement is currently unfinished but will end up being finished afer we move in.
The house is being built north of omaha proper and isn't that bad of a drive for us to work.

<--The 2 pictures on the left are of a completed house very similar to ours.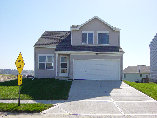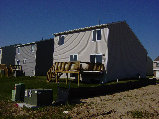 Est. date of completion: May 5th - May 25th